Foil stamped professional presentation folders are a great way to enhance the image of your business. Attorneys, accountants, realtors and other business owners can all benefit from a well-designed folder.  Whether you're sending material to an existing or potential customer, a high-quality folder allows you to deliver presentations, documents or sales literature in an organized fashion while projecting a professional image.
A presentation folder is the workhorse of your brand identity package so it needs to make a good first impression.  The design, paper stock and foil stamped artwork should all reinforce your company's brand and name recognition.  The right style of presentation folder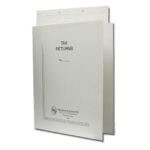 depends on how it will be used.  Attorneys and realtors often need legal sized folders for over-sized contracts. Accountants typically use a one-pocket folder with Acco fasteners to hold tax returns.
To request samples of foil stamped professional presentation folders, contact us today at support@conformer.com.