Ever since Canvas Magazine mailed its August issue in a Conformer mailer, the phones have been ringing off the hook.  Obviously, Canvas publisher Mark Potter did a good job calling attention to the unmet need in the marketplace for smart packaging solutions.
This week, the question we kept fielding was "How does it work?"  At Conformer, we are probably guilty of overlooking this reasonable question.  How does the construction work? In other words, why believe the Conformer construction is superior just because we say so? We owe you this answer.
At a glance, a Conformer product looks like a bunch of score lines since that's probably its most noticeable feature.  But if you take a close look at a Conformer mailer, you'll notice three key features: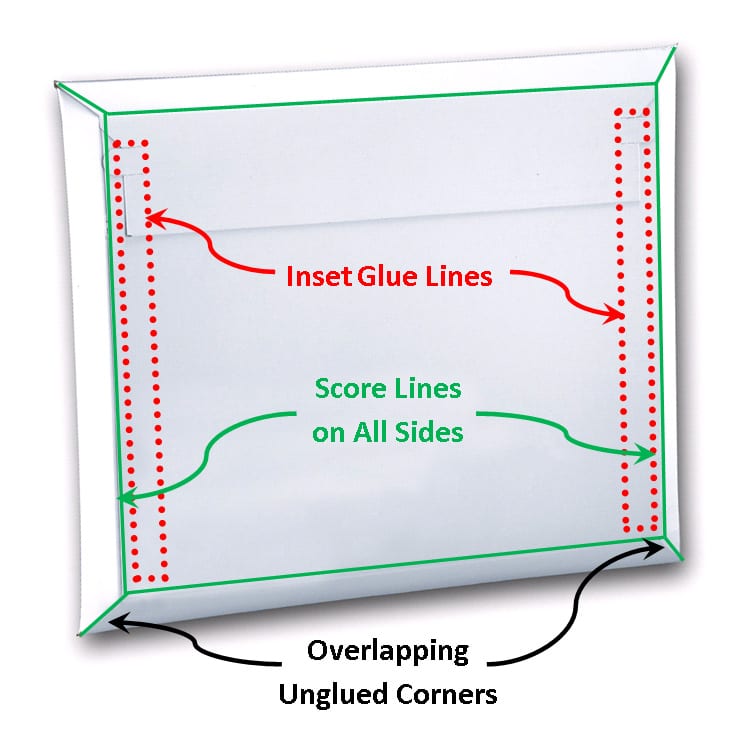 Score lines on all four sides, on both the front and back face.
Inset vertical seams that are glued almost, but not quite, to the bottom of the mailer.
Overlapping, unglued flaps at the corners
These three features create uniformity throughout the mailer so that its corners have just as much capacity as its center.   Traditional mailers and envelopes do not have uniform capacity – the corners are always a serious limiting factor, which is why we have to make do with an oversized envelope or bubble mailer.  The bottom corners are dead space.
The Conformer construction has corners that are free of glue, plus the score lines triangulate at the corners to create a nice open space (sort of like the corner of a box).  This is what enables Conformer mailers to boast a maximum capacity that outrivals the marketplace, without having to rely on the convoluted folds of a gusseted mailer (no uniform capacity there either… just a lot of oversized, excess material.)

[FYI, when I say the word "oversized," read "expensive".  Using an oversized package has a lot of hidden costs, especially at the post office, your fulfillment center, in storage, in freight, in damages, and the environment.]
In addition, the score lines enable the mailer to conform uniformly around your material inside so that the Conformer mailer snugly holds a little or a lot.  This gives you a lot of flexibility in one mailer, doesn't it?   And, that snug fit is pretty important in protecting your contents.  You don't want shift inside your package.  You want a snug fit, and the Conformer mailer, well, "conforms"!
There are other hidden bonuses to the Conformer construction.
We've moved the vertical glue lines towards the strongest part of a mailer, its center.
The score lines, when they conform to your stuff and triangulate at the corners, create a nice 360° perimeter of protection around your contents.
The perimeter is exactly where documents in particular need protection, not the top and bottom face of a package, which is what you get from a bubble mailer.
Those overlapping flaps at the corners?  Think of them like air vents.  They release the air trapped inside a paper envelope when you seal it tight, eliminating the #1 stress point inside an envelope.  (This dynamic, along with Conformer's uniform capacity, makes our envelopes a particularly smart choice for a high-speed insertion environment, but that's for another time…)
These features make the Conformer construction strong, which then begs the question… "So why am I paying a premium for a Tyvek(R) envelope?"
And finally, the fourth unsung hero of a Conformer mailer is paperboard. 
It prints exceptionally well, enabling our clients to present their brand and their marketing message as it should be – beautifully and immediately – without forcing you to dig through an ugly bubble mailer, or cut open a small corrugated box full of fill to get to the good stuff inside.  And the paperboard is sustainably harvested, recycled, recyclable, and the smallest footprint possible.
And that, my friends, is how the Conformer construction works.  Let me know how it works for you.