With one foot solidly in the print industry, I see my fair share of marketing materials and sample kits from the print world.  And I am often left unsettled.  If our industry is to persuade others of the compelling value of "print", why do I so often receive stuff that doesn't look, um, compelling?
If your sales kit is a random collection of goods for sale, it misses the point.  It needs to be packaged such that the total effect is powerful when it lands in your recipient's hands.  Admore Folders, a presentation folder manufacturer to the trade, takes this holistic approach and just won a print industry PEAK award for its sales kit.
Millcraft, an independent paper merchant, also got it right.  I recently requested samples of a particular paper stock that could have been tossed into a paper envelope without much thought.  Instead it arrived in a beautiful dark gray 'Hopsack #90 Cover' folder, the color of which showcases white paper stock perfectly.  The cover featured a beautiful embossment of the Millcraft company logo that conveyed quality in a way that no sell sheet full of copy ever could.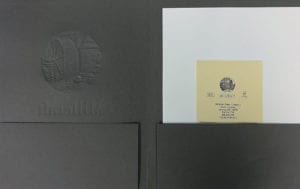 Of course, the icing on the cake was that Millcraft had chosen a Conformer folder to tame a potentially unwieldy sample kit into an elegant presentation.  Did Millcraft have the foresight to know that this folder would one day be delivered into the hands of Conformer Central?  No.  But I'm awfully impressed that it did.
Do you have a Hall of Fame candidate for us?  We'd love to share it with our readers…
-Sari McConnell at smcconnell@conformer.com