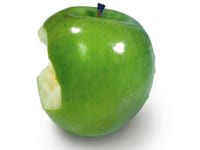 I try not to burden my soul too much with New Year's resolutions. Rather, I see the new year as a way to see things with fresh eyes. It doesn't hurt that New Year's forces me to push back from my desk for a few days, clear my head and think fresh thoughts.
Perhaps that's why so many of us go into organization mode in January. We view our surroundings with fresh eyes and see that things could be different, better.
January's Fresh Eyes are a gift to inventors like us at Conformer. We are innovative 365 days of the year, but some days are easier than others.
Fresh Eyes can be a force for positive change, rather than tired New Year's resolutions. When was the last time you took a fresh look at your sales kit, for example? Does your presentation folder limp along, or is it actually making a positive contribution to the overall impression on your customers? When you send out a package, use your fresh eyes to determine whether you are making the best eco-friendly packaging choice that, again, makes a positive contribution not only to the Earth, but also to your brand and to your customer.
And speaking of brand, I often turn to Branding Strategy Insider, brought to you by my Hallmark mentor Brad Van Auken and his smart new business partner, Derrick Daye, whenever I need some fresh-eyed inspiration.
So no resolutions for me this year… I will inspire myself to go to the gym, I swear!